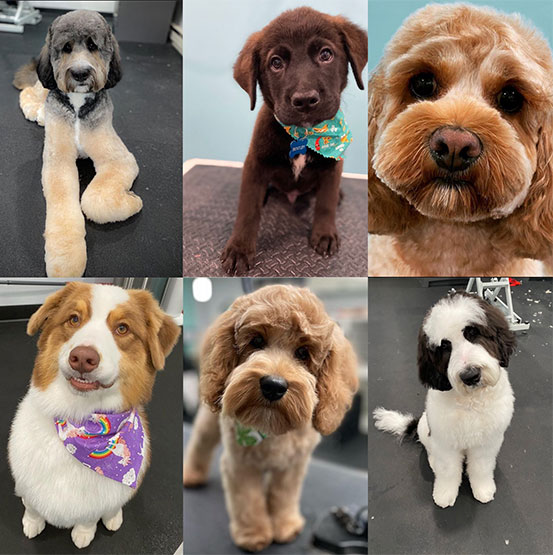 About Sassy Paws Pet Styles
Sassy Paws Pet Styles salons are staffed by talented, compassionate and friendly Stylists who's number one goal is to provide your pet with a safe and stress free experience. All of our team members are Certified Groomers, Bathers and Support Staff with up to date Pet First Aid and CPR training and continue to learn about proper cleaning and sanitizing protocols.
Our salons cater to quality and not quantity. We book out 8+ weeks for groom dogs because we strive to keep every appointment on a start to finish basis. This helps us keep your pet happy while in our care, even if that means a few breaks or extra time for 'groom training'. We are 'client friendly' and are more than happy to answer any questions, explain our process or chat about how we can do our best to exceed your expectations.
With over 25+ years combined our team can help with just about any questions or concerns and if we don't have the answer we have a wonderful network of Pet Professionals that we can refer you to.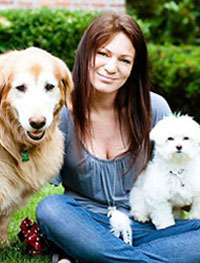 My name is Malinda Costa, I am the Owner of Sassy Paws Pet Styles LLC and have been grooming for 16years. I started my career in an agricultural high school and upon completion received my grooming certification from a grooming school. I truly love my career and all of my furry (and human) clients. My husband and I share our home with our 9year old Maltese named Lilly Bell (who's spunky attitude cannot be missed when visiting the salon) and our beautiful daughter. In my spare time I enjoy pet industry trade shows, craft fairs, photography and spending lots of time outside with my family.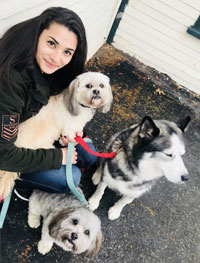 Hi, I'm Iliana (lani)! These are my personal loves Lola (on my lap), Bruin (my grey boy) and Belle (my husky), life would not be complete without them or all of my family dogs. We are a family of 7 pups altogether, 2 lhasa apsos, 2 chihuahuas, 2 huskys and our big ol' american bulldog/pit mix. I got into grooming after relocating to the south due to the military. I decided to follow my passion and go through grooming school to become a certified groomer. I absolutely love working with dogs and giving them their well deserved spa time. I've now been in the grooming world for just about 3 years and I can not see myself doing anything else. The pure happiness, spark and excitement a pup radiates when they feel clean and know they look amazing is what fuels my love for grooming.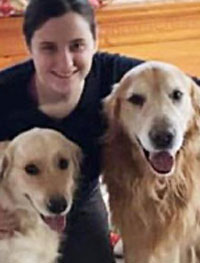 Hi my name is Lauren and I am a true animal lover at heart. I have lived in Reading, MA for the majority of my life. I have been working with animals for the past 3 years and I see myself doing so for many more. You will mainly see me in the bathing room, as my job is to prep your dog for their haircut. I am looking forward to joining our team of groomers in the future! My real passion for dogs started when I met my boyfriend and his two golden retrievers, Einstein (shown on the right) and Minnie, (shown on the left) who I now consider to be my own dogs. I was smitten from day one and my passion has only grown since. In my spare time I enjoy playing video games, kayaking, ice skating and, of course, spending time with my dogs which usually involves car rides and trips to the park. I look forward to meeting your furry four legged children in our salon!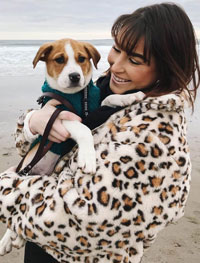 Hello! My name is Kristen and I have been a Pet Stylist since 2013. Between bonding with each pet and being able to make them look and feel their best I feel so blessed to be doing what I love everyday. If you ever caught me outside of the salon I guarantee I would be with my dog Norman, my Pit Bull/Hound rescue pup. Growing up my Mother's passion was riding horses and I followed in her footsteps riding and competing for 12 years. Being around animals isn't just a job for me because it has been a huge part of my life. My first job was working at a small family owned veterinary clinic where I found my passion and love for dogs then later started as a bather in a small grooming salon in NH. It was soon after that I realized I wanted to pursue working in the grooming industry. After graduating The Whole Pet Grooming Academy I was able to turn my passion into my career.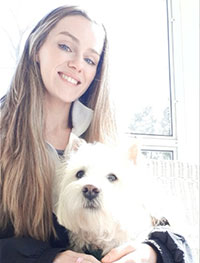 Hi, my name is Shannon and this my little Westie, Jameson. When I'm not at work I enjoy hiking and work out with my pup always by my side. I have been working closely with dogs at daycare facilities, dog walking services and boarding for about 5 years. I made the decision to move from doggie daycare to dog grooming because I really enjoyed bonding with each dog on a more personal level. Learning their personalities, what makes them happy and comfortable have all been a part of this wonderful career move. Being with Sassy Paws since 2019 I am learning to groom hands on from a talented team around me. Safety and comfort are my biggest priority for all the dogs and I will do my best to ensure your pet has a safe and positive with me. I love taking care of dogs and helping them to feel their best but just being around them and giving them love is my biggest reward. I look forward to meeting you and your pup!
This error message is only visible to WordPress admins
Error: There is no connected account for the user sassypawspetstyles.